Why is A2 Ghee an excellent choice?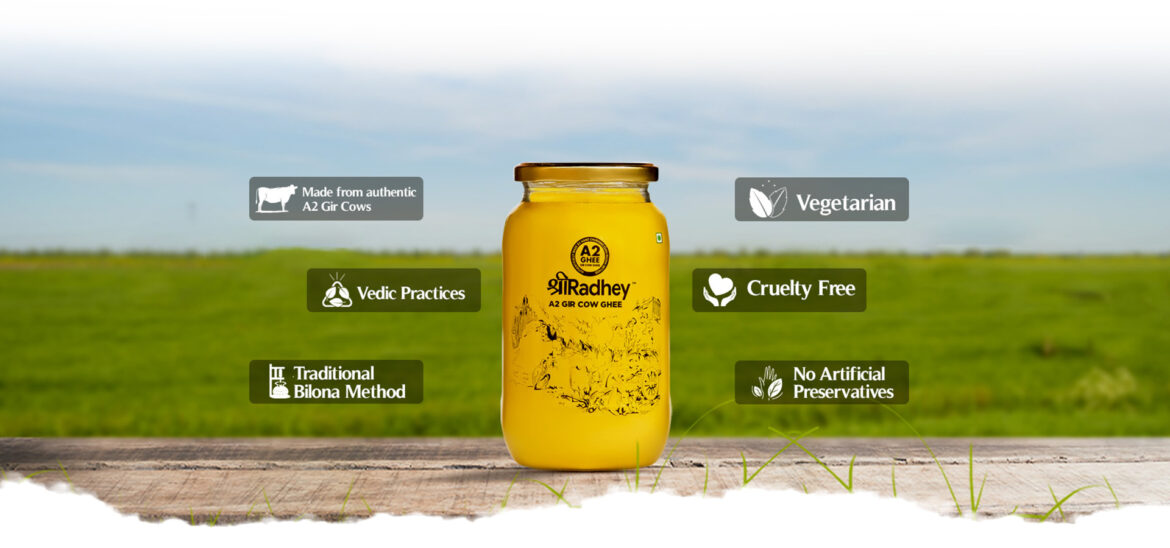 Why is A2 Ghee an excellent choice?
A2 Ghee is a type of clarified butter that is originated in India. Most people use ghee in cuisine, traditional medicine, and religious rituals. Ghee is easy to love. A2 Desi Cow Ghee is unbelievably flavorful that is been gently caramelized and transformed into a smooth spread.
When it comes to opting for the best ghee among the ghee varieties, Shree Radhey A2 Ghee is an excellent choice for your health, heart, and mind. Our Shree Radhey A2 Ghee is the purest form of ghee made entirely from the milk extracted from desi and indigenous Gir Cows.  A2 ghee is prepared by following the traditional Bilona or churning method. Shree Radhey A2 Desi Cow is an excellent choice because:
Traditional Bilona Method
Shree Radhey Desi Cow Ghee follows the traditional Bilona method. The whole of the traditional Bilona method of setting ghee is done in earthen pots. Churning in this Bilona process is done using a wooden vessel called Ravaiya in an earthen pot. The Ghee made of A2 milk in this process is completely done with the hands without any use of machines, Out of many methods to make A2 Ghee, this Bilona Process is the one that makes the Ghee 100% pure and healthy.
Safe for Pregnant Women and Child Growth
Ghee is one of the important parts of every Indian household and is used as a primary ingredient for making dishes. From children to pregnant ladies, ghee is recommended for everyone as it is good for bone density, helps in the body's growth and development, fast recovery, and does not decrease the good cholesterol level.  It is completely safe for them as A2 milk contains no other additives, preservatives, or chemicals. The whole process is completely done with the hands without any use of machines. Know the Benefits of A2 Ghee for Kids
A2 Desi Gir Cow Ghee can be digested very easily, which is an ideal choice for all age groups. A2 desi ghee helps in proper digestion and prevents constipation. This A2 Desi Cow Ghee is known to be having natural detoxifying properties which help in nourishment.
It has a Higher Smoke Point
A2 Desi Cow Ghee has a higher smoke point that does not release any toxic fumes when cooked at a high temperature. Whereas other oils generate toxic fumes when heated at a high temperature.
It can help treat Other Health Issues
Shree Rodney A2 Desi Cow Ghee has proved to be great in preventing and treating several health issues like heart blockages, improving bone health, curing gastric issues, treating asthma, and curing stomach ailments.
Shree Radhey A2 Ghee consists of several vital vitamins like Vitamin A, E, K, and D; all these are essential for a healthy mind and brain. All these vitamins also help in the proper functioning of the heart and mind.  Shree Radhey A2 Ghee is also beneficial for developing bone density.
Shree Radhey is a brand known for the plentiful opportunities it has created for the rural women of the region. Our goal is to serve you with nature's best and support an ideology of job creation for rural women and the economic development of their families.
Shree Radhey A2 Ghee is an excellent choice for everyone as it contains a lot of benefits for your mind and health. Healthy India starts with healthy you. Shree Radhey A2 Ghee is the purest form of ghee prepared by the traditional method that helps in developing immunity. Overall, Shree Radhey's A2 ghee is considered 100% pure and healthy. Click the link to know what makes A2 Gir Cow Ghee 100% Pure and Healthy