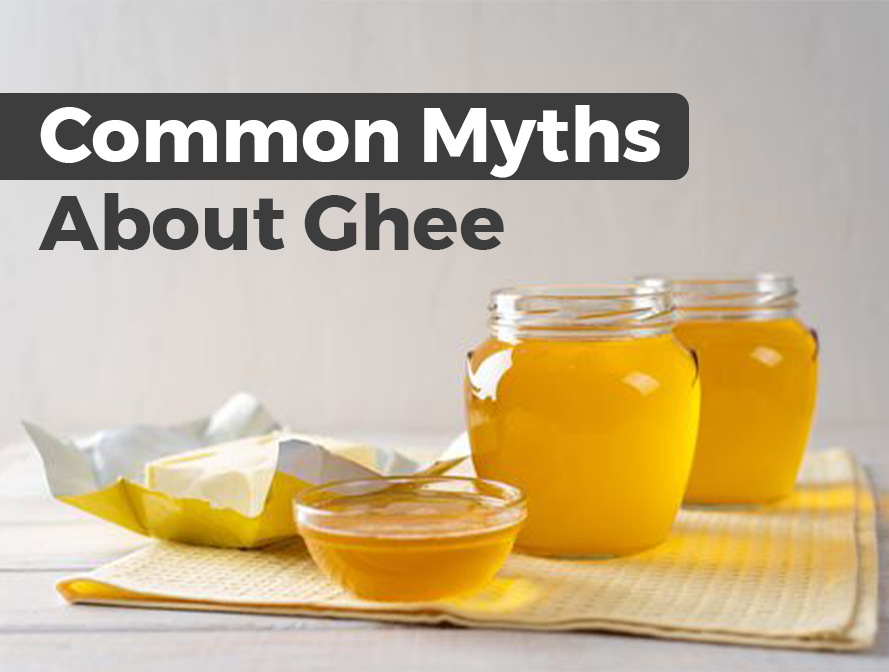 Ghee is just more than clarified butter, and for ages, it has been part of Ayurvedic medicines. Be it any disease, there is a 90% probability that Ghee would help cure that disease.
And there is no second opinion about whether ghee is good for your health or not, but apart from its immense health benefits, what makes ghee so special is that it is a very good substitute for butter as it makes the food wholesome and delicious.
But due to rumors, ghee has got a bad reputation among many health enthusiasts. So here are some common myths and the truth behind those myths.
Ghee Is Difficult To Digest
Many people have this miss conception about ghee that it is difficult to digest and will cause weight gain. But that's not the true ghee is among those few products that contain butyric acid. That helps break down other foods and is very crucial in keeping the gut healthy.
Ghee Causes Weight Gain
Many health enthusiasts keep a long-distance with ghee as they think that eating it will cause weight gain. But that is not at all true, in fact, ghee contains conjugated linoleic acid that supports weight loss. And it even helps break down stubborn fats around the thighs and stomach.
Ghee Is Not All Good For Heart Patients
Especially heart patient thinks that eating ghee is bad for their heart as it will cause a variety of heart-related issue. But instead, ghee is packed with lots of vitamins and antioxidants like vitamin A, E, D, K, meaning it is the complete powerhouse for your cells that not only provides energy to your body but keeps the body healthy and fine, and even prevents the onset of heart-related disease
Cooking In Ghee Is Perilous For Health.
Millennia's restrain themselves from cooking in ghee as they feel that it is not good for their health. Instead, those so-called healthy oils are dangerous for health as they release toxic chemicals when burnt at high temperatures. And Ghee has got a high smoking point that makes it suitable for cooking at high temperatures.
Conclusion
Ghee is indispensable for a healthy body. Ghee is packed with lots of vitamins and fatty acids, that are crucial for the functioning of a healthy body. Ghee also provides energy to the body and keeps the body healthy. So, instead of restricting yourself from eating Ghee, start incorporating it in your diet.
Ghee is a perfect fat for weight loss, so start using it to lose weight and get a healthy body.