Difference Between Buffalo Ghee vs Gir Cow Ghee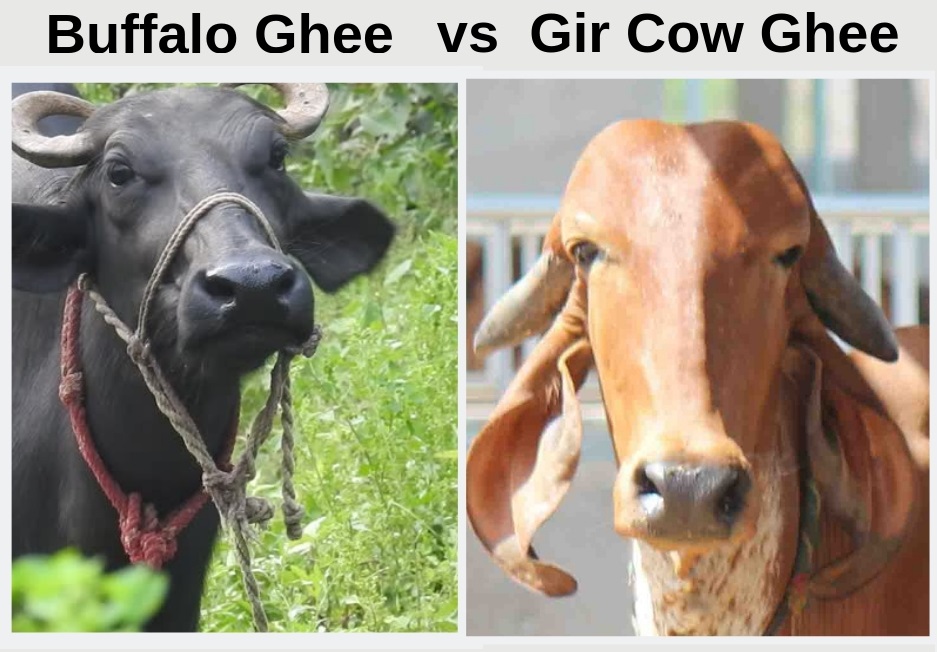 There are some Basic and main differences between Buffalo Ghee vs Gir Cow Ghee.
Buffalo Ghee: 100 percent a lot of fat content than cow's Ghee.
Gir Cow Ghee: Also known as Bilona Ghee, lower in fat than buffalo Ghee; preserved for a fewer time. it is helpful in reducing your weight and keeping you fit.
Nutrition (Buffalo Ghee Vs Gir Cow Ghee)
Buffalo Ghee: Buffalo ghee is extraordinarily wealthy in calcium, and could be a good supply of minerals like magnesium, potassium, and phosphorus.
Gir Cow Ghee: Gir Cow's ghee is wealthy in an exceeding form of minerals, vitamins, and proteins; it's additionally a superb supply of calcium.
Health benefits (Buffalo Ghee Vs Gir Cow Ghee)
The important part of our balanced diet is Pure Desi Cow Ghee. Compared to the buffalo ghee, the fat in the cow's ghee is low in quantity and cholesterol is high in a quantity which is essential for our body. it's helpful for healthy bones, dental health.
The buffalo ghee is white, while the Gir cow's ghee is yellowish.
The main difference between desi Gir cow ghee and buffalo ghee is its quantity. The more ghee taken from the cream of the buffalo's milk, the same does not get as much from the cow's milk.
Compared to buffalo ghee, cow's ghee is more beneficial for children than it keeps away from laziness, along with protects against deadly diseases such as thyroid and cardiovascular. Click to know More Benefits of Cow Ghee for Kids
Gir cow's ghee is suitable for all ages From child to old age all can eat it. But the ghee of Buffalo should be used only for those who do more physical work.
The Gir cow's ghee is a very big source of butyric acid, a small series of fatty acids which is good for our intestines. Butyric acid is rich in antiviral and anti-cancer properties, which is also helpful in the prevention and treatment of Alzheimer's. Whereas such qualities are not found in buffalo ghee, it is only suitable for weight gain. Click to Shop Now