The Benefits of Ghee for Eyes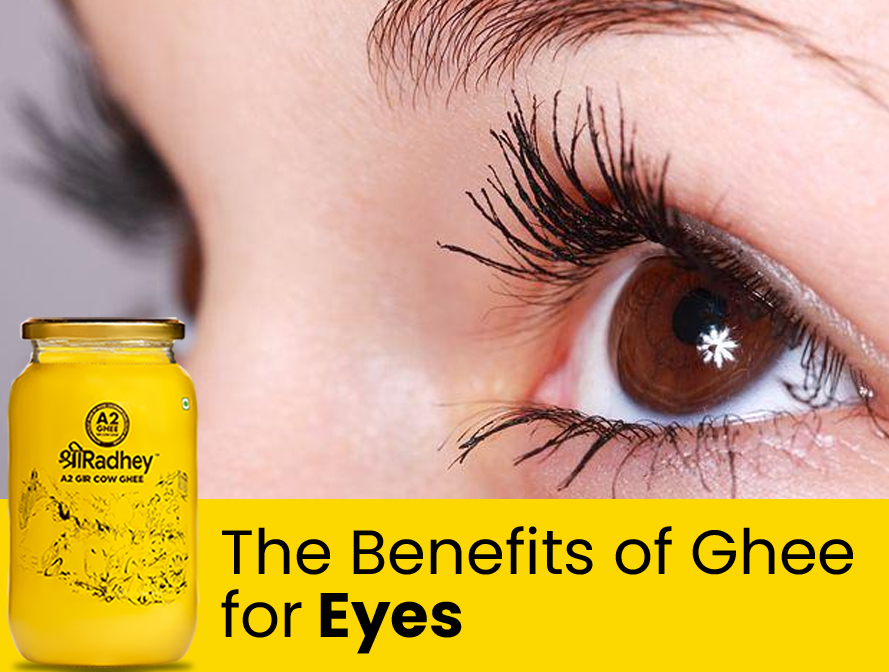 You must have heard a lot about the benefits of ghee for skin; it is one of the best home remedies to get glowing and fairer skin. But what if we tell you that there is something special about ghee that makes it even more beneficial for your good overall health. Yes, we are talking about ghee for eyes. Ghee for eyes is nothing but using ghee as an eye lotion to reap its benefits along with using it in one's diet to see its tremendous benefits. Yes, you read that right. There are lots of properties in ghee that not only revitalize the skin on your face and hands but also heal it from within. Let's know more about how you can use it as a home remedy to get rid of all the issues related to eyes like dark circles around your eyes, dryness, and some other problems.
Benefits Of Ghee For Eyes
Ghee is clarified butter that has been widely used in Ayurvedic medicine to get healthy and glowing skin. It is widely used as a skin moisturizer and also to cure skin issues like dryness, acne, pigmentation, and other skin problems. Ghee is also helpful in removing eye bags and reducing dark circles around the eyes. It is a natural antioxidant that treats the problem from the root. Vitamin A present in ghee helps prevent wrinkles and reduces dark circles and black spots under the eyes.
Ghee for Treating Dark Circles Around the Eyes
Ghee is an excellent remedy to get rid of dark circles around the eyes. Dark circles appear due to a number of reasons, including stress, unhealthy diet, and lack of sleep. Dark circles around your eyes can make you look tired and unattractive, especially when you are going to a party or meeting new people. Ghee is a great moisturizer that hydrates your skin and enhances blood circulation around your eyes to reduce the appearance of dark circles. It also prevents wrinkles and other aging signs around your eyes. Apart from using it as an eye lotion, you can also apply it to your eyelids before going to bed to get rid of the dark circles.
Ghee and Dryness around Eyes
Ghee is one of the best remedies for dryness around the eyes. If you are suffering from extreme dryness in this area and have tried all possible solutions to no avail, then ghee can work wonders for you. It not only moisturizes your skin but also heals it from within to prevent any future complications. Ghee is a rich source of essential fatty acids that are responsible for keeping your skin hydrated and nourished from within.
How to Use Ghee for Eyes?
To reap all the benefits we talked about above, you just need to use ghee as an eye lotion. But before we move on to its application, coming back to its application, all you need to do is apply a little ghee on your fingers and gently massage it around your eyes. Let it sit for some time and then wash it off with clean water. Use daily for the best results. And even including it in your diet will show tremendous health benefits.
Conclusion
Ghee is one of the most beneficial natural products you can use on your skin. It's made from butter, but you won't find any dairy ingredients in it as they've been removed. and It's rich in Vitamin A and E, and these are great for your overall health. It's a great choice for removing dark circles and fine lines, and it's also a great cure for dry skin. That's why It's a must-have to improve your health.