Benefits Of Ghee For Skin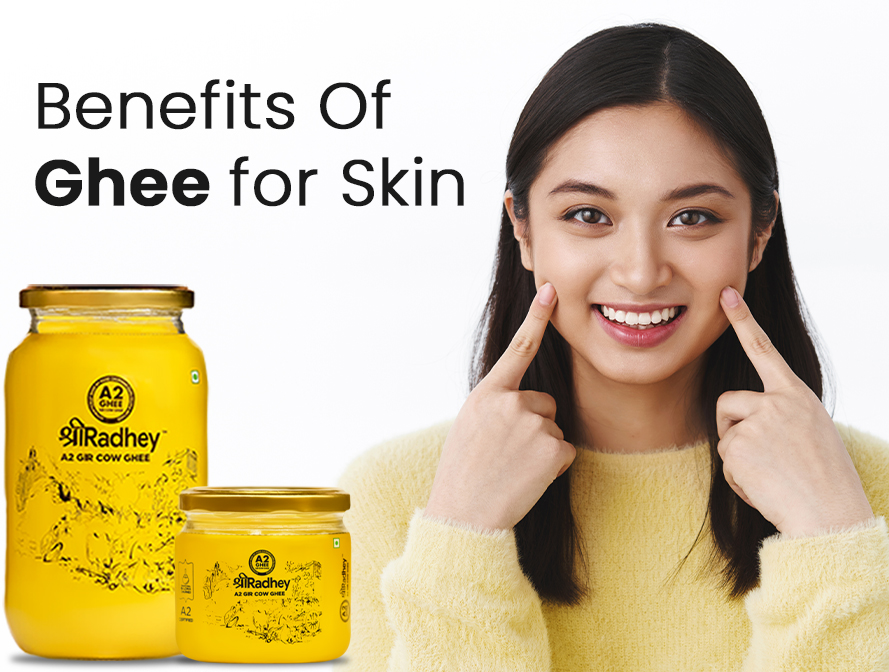 Today we live in a world where the temperature is rising at soaring rates, the level of pollution in the environment is at its peak, and people are suffering from multiple diseases. In short, we live in an era where the conditions surrounding us are not at all good for our skin and health. That's why it is quite indispensable that we should take utmost care of our health both physical and mental health.
And among all keeping, your skin healthy is also a very crucial aspect of health. And who doesn't want their skin to glow and appear youthful right? Well, ghee is your answer. Ghee is a type of clarified butter that has been boiled until the water has been removed and the milk solids are at the top of the pan. It has a higher smoke point and is a better choice than regular butter as it doesn't have any additives.
Ghee is a hidden gem because not only it does provide you with important vitamins that make you stronger and healthier, but apart from being full of vitamins and minerals one thing that differentiates it from the rest is that it is quite healthy for the skin too. As It is loaded with vitamins and minerals that help keep your skin healthy and glowing.
Read on to know more about Ghee and its benefits.
What Is Ghee?
Ghee is a by-product of butter that has been cooked until the water content and milk solids are removed. It has a higher smoke point and a better fat-to-water ratio than butter. The process of making ghee is called "clarification" and is a long process that involves heating the milk to separate the water, milk fats, and milk protein. Ghee is a popular cooking ingredient in Indian and Asian cuisines and is traditionally used in all types of recipes, including curries, gravies, and dals.
Health Benefits Of Ghee
Ghee has a very high smoke point compared to other fats and is suitable for high-heat cooking. It can be used for deep-frying because it does not absorb too much oil. It has a neutral flavor so it can be used in all types of recipes. Studies have shown that ghee may help reduce inflammation and wrinkles because of its high amounts of vitamins and antioxidants. Ghee also has anti-microbial and anti-aging properties, which makes it a great substitute for skincare products.
Ghee For A Glowing Skin
Ghee is a wonderful moisturizer for dry skin. It is also a great anti-inflammatory and anti- Aging agent, an excellent source of Vitamin A and E, which can reduce wrinkles and retain moisture in the skin. It is an excellent moisturizer and has been used for centuries in India as a beauty enhancer. Not only does it have anti-aging properties, but it is also a great source of vitamin A and E that can promote cell growth, decrease scarring and wrinkles, and even out skin tone. It can be used as a moisturizer for skincare products.
Benefits Of  Using Ghee For Skincare
It helps reduce wrinkles and wrinkle marks.
It helps maintain healthy, youthful-looking skin. It promotes cell growth.
It is anti-inflammatory and anti-aging.
Excellent source of vitamin A and E
It is a good source of antioxidants and can protect skin from UV rays
It can be used as a moisturizer
That's why apart from all the other health benefits ghee is actually really good for the skin. But one thing to keep in mind is that one should purchase ghee that is free from all the chemicals.