Amazing Benefits of GIR Cow Ghee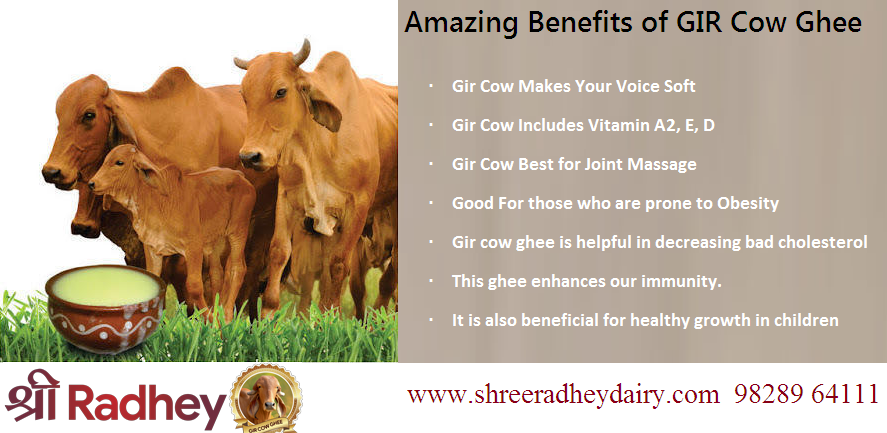 Since ages, we have seen our parents and grandparents talk about the benefits of having A2 cow ghee in our meals on a daily basis.  We have followed the tradition of eating a spoonful of ghee. In lunch and in dinner as a habit that has been passed on through generations.  But we tend to forget that our forefathers were consuming pure ghee and not the adulterated one. GIR Cow Ghee benefits are only attainable if Pure GIR Cow Ghee is consumed.
Gir Cow Makes Your Voice Soft
A2 Gir Cow Includes Vitamin A2, E, D
Gir Cow Best for Joint Massage
Good For those who are prone to Obesity
Gir cow ghee is helpful in decreasing bad cholesterol
This ghee enhances our immunity.
It is also beneficial for healthy growth in children
Shree Radhey Dairy Farm is Desi Cow dairy farm, which intends to produce & promote best breed of Gir cows, the supply of Certified A2 Gir Cow Ghee from Indian indigenous cows (Desi Cow) known for its inherent high nourishment and medicinal values.
If you like what we do, and think we could supply you Gir cows, butter or ghee, then get in touch with us or drop us a mail.